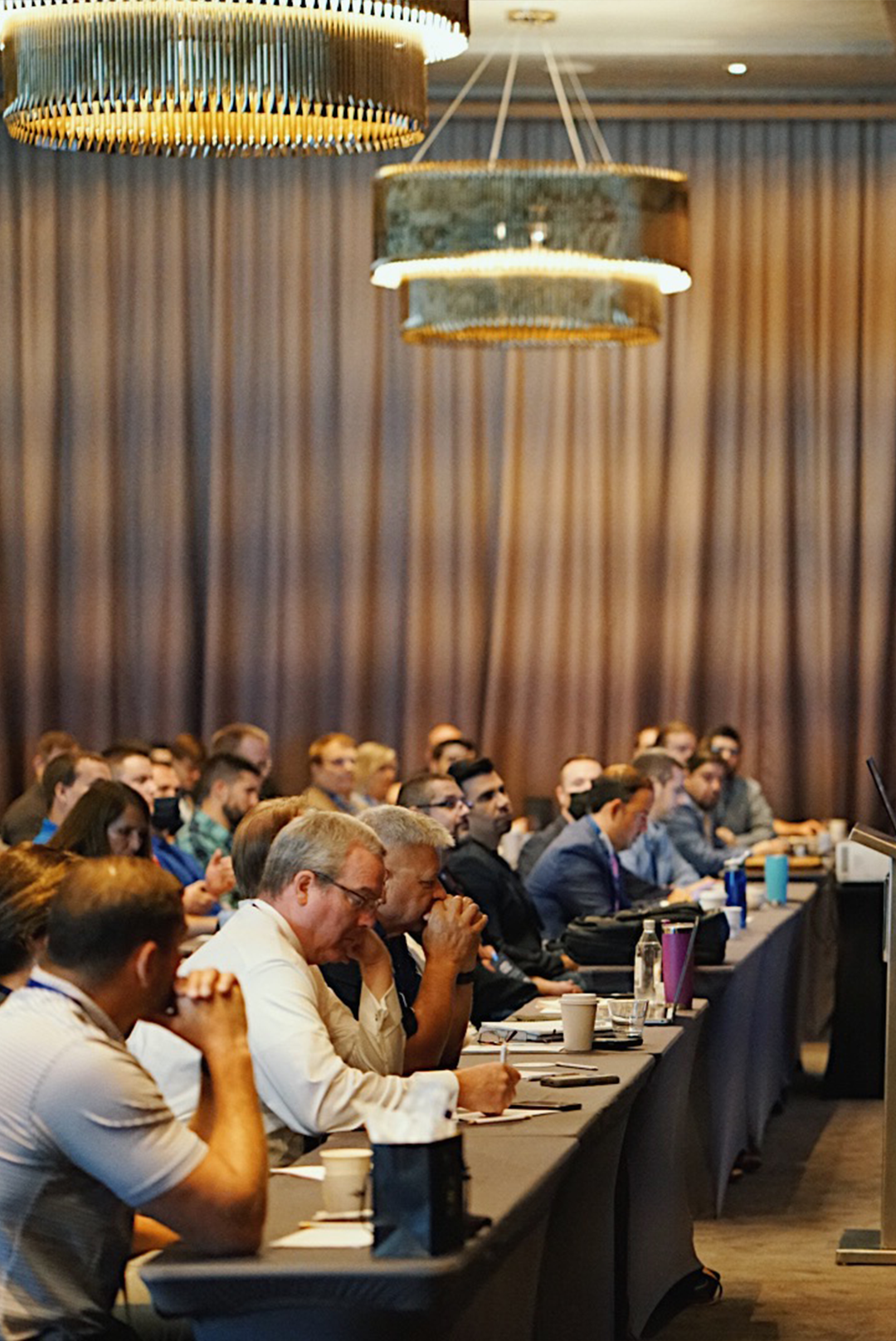 The Cloud Security and Compliance Series (CS2) is strictly for government contractors and those in higher education research institutions
looking to meet cybersecurity regulations, address security threats, and glean best practices for their cloud investments.
Join us in San Diego, CA, at the
Intercontinental Hotel
, or virtually for this
ongoing informational series
to cover best practices for CMMC, DFARS 7012/7019/7020/7021, NIST 800-171 compliance, CUI and ITAR data management, Assessment Preparations, and other cloud security topics.
The greatest hurdle for contractors and those conducting DoD research in higher education is transforming their information systems for compliance by moving off of legacy infrastructures. This is the first venture into cloud technologies for many companies, and the security landscape for advanced persistent threats is ever-changing.
---
NOTE:
This event will be a "hybrid" format, meaning there will be

both in-person seats, as well as virtual seats.

*Due to COVID19 and social distancing, in-person capacity will be limited for CS2SD, and the CS2 team will close registration once capacity for each Tier is reached. Masks will be mandated for all attendees at CS2 San Diego.
MICHAEL WEISKOPFF
Division Chief, External Operations (XOP) at DC3/DCISE
JACOB HORNE
Chief Cybersecurity Evangelist, Summit 7
RYAN BONNER
Cybersecurity and Compliance Consultant, Defcert
JOY BELAND
CMMC-AB Provisional Assessor, Provisional Instructor
MATT SOSEMAN
Senior Security Architect, Microsoft
FERNANDO MACHADO
MANAGING PRINCIPAL / CISO, CISSP, CYBERSEC INVESTMENTS
SCOTT EDWARDS
CEO, Summit 7
DANIEL AKRIDGE
Senior Client Engagement Manger, Summit 7
KEVIN BOUCHER
Azure Cloud Architect, Summit 7
Day 1
08:00-08:30

Registration & Check-In

Coffee, Tea, Custom Beverages

2020-11-28 20:30:00

2020-11-28 23:00:00

08:45-10:00

Fuzzy Math: Common Mistakes in Calculating SPRS Scores and Estimating CMMC Readiness
Speaker: Jacob Horne

2020-11-28 23:00:00

10:15-11:30

Defining and Planning For The Non-Technical Components of CMMC
Speaker: Ryan Bonner

2020-11-28 23:00:00

2020-11-28 23:00:00

12:30-13:30

Implementing Systems to Alleviate Compliance Boundary Issues with Microsoft Gov Cloud


Speaker:

Scott Edwards and Daniel Akridge

2020-11-28 23:00:00

13:45-14:45

Dispelling Complications for Marking CUI in Your I.T. Environment
Speaker: Fernando Machado

2020-11-28 23:00:00

15:00-16:00

Q & A Super Panel

Speakers: Jacob Horne, Fernando Machado, Ryan Bonner, Scott Edwards

2020-11-28 23:00:00
Day 2
08:00-08:45

Zero Trust in the Microsoft Cloud
Speaker: Matt Soseman

2020-11-28 20:30:00

09:00-09:45

CMMC-AB Authorized Training Materials Past, Present, Future
Speaker: Joy Beland

2020-11-28 20:30:00

10:00-10:45

Cyber Reporting and DC3 Overview
Speaker: Michael Weiskopff

2020-11-28 23:00:00

11:00-11:45

CMMC Configuration Management (CM) Overview
Speaker: Kevin Boucher

2020-11-28 23:00:00